Group workouts
Have fun & work out together
We have a lots of inspiring forms of exercise for you that makes it more fun to train together in groups. With an supporting instructor and happy music, it will be more fun to reach your goals.
Open 24/7
First-class equipment
Group workouts for everyone
Inspirational environment
Joy
Buy card
AfroPowerDance®
AfroPowerDance® is inspired by different African dances in its well-founded and natural movement pattern. It is a dance session that is powerful and liberating with simple choreography. With AfroPowerDance® you get all the joy that the dance gives without the training effect being lost. Big, free and powerful movements with a low center of gravity in many repetitions give a comfortable feeling and tough training.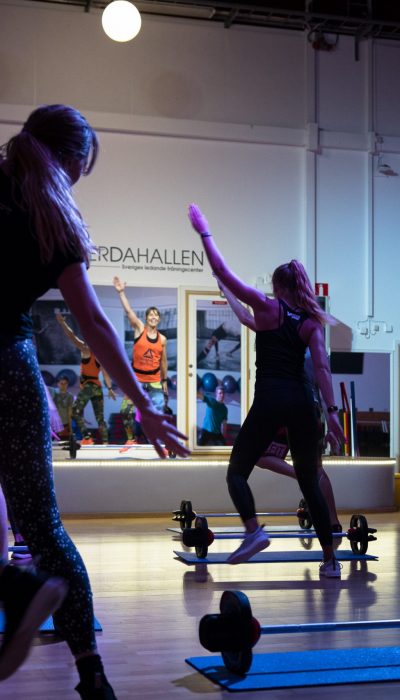 Best Allround Training
BAT (Best Allround Training) is a high-intensity and training-efficient workout where barbell and step aerobic equipment are used. Focus is primarily condition and strength, but you will also train flexibility and stability. The workout is challenging and fun where the music is catchy and gives energy.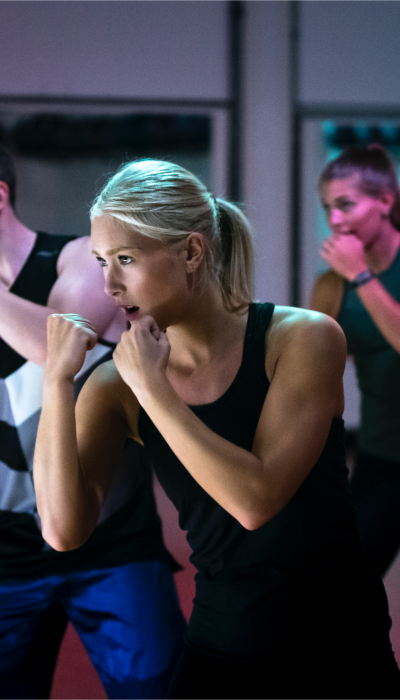 Bodycombat®
Bodycombat® is a workout with lots of power and energy! With techniques from karate, taekwondo, capoeira, boxing and muay thai, you challenge your fitness and physique. The music, the movement combinations and the group give you a powerful escape from reality – you live in the workout and become an action hero for an hour.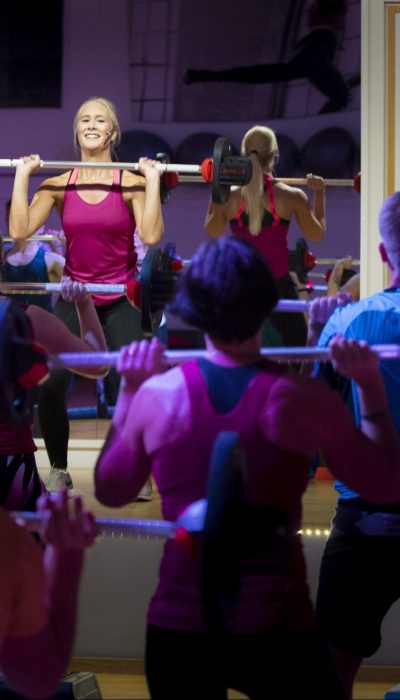 Bodypump®
Bodypump® is group strength training together with music that challenges and makes you strong and enduring. The workout is simple and effective, and we work with barbells, weight plates and step boards. The workout is perfect for both women and men who want to train through the whole body in one hour. You decide the weights yourself and how hard you want it to be, therefore Bodypump® is suitable for both young and old, untrained and well-trained.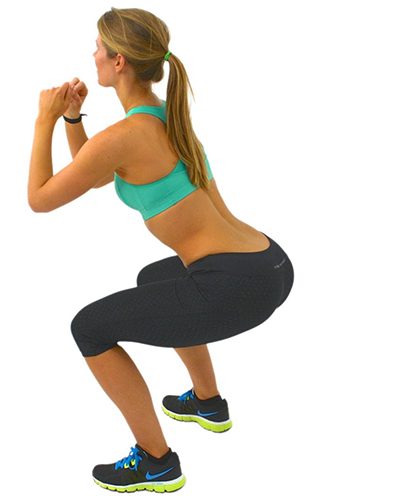 Booty
A 30-minute class with focus on thighs and buttocks. In addition to shaping these muscles, you will develop strength to be able to lift heavier and be more persistent in exercises such as squats and deadlifts. This is a class with upbeat music and easy exercises. Everyone can participate regardless of level! Tools used are mini band and step boards.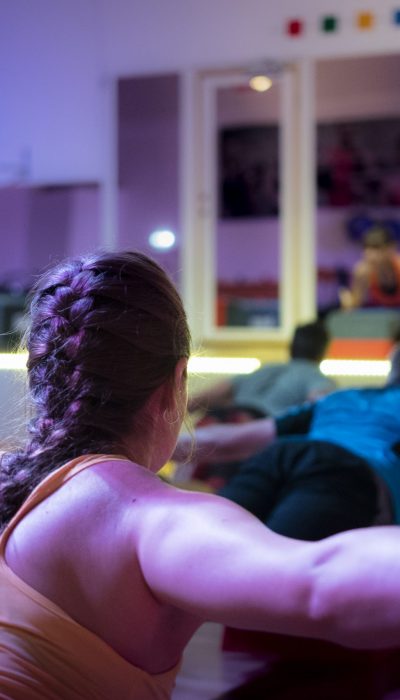 CardioCross
CardioCross is a high-intensity, challenging and fun workout with a focus on strength and conditioning training where varied station training is included. CardioCross begins with a solid and versatile warm-up. During the station training (which can be either on sone place or with movement around the hall) various tools are used, e.g. barbell, kettlebell, battle rope, bulgarian bag, TRX band, medicine ball, pilates ball, weight plate, rib chair etc. The layout and exercises of the stations are changed and varied every month.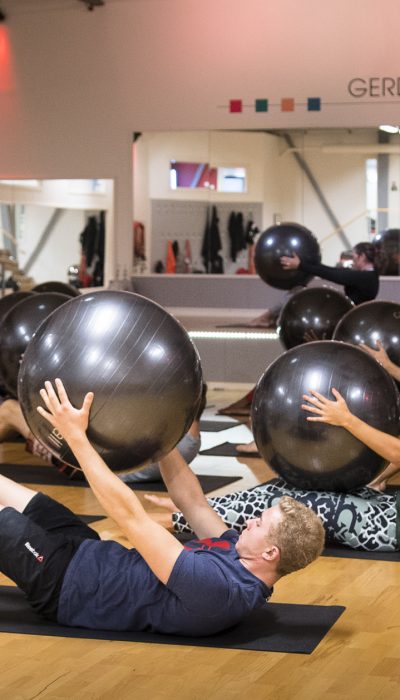 Core
Core is a form of training that is mainly based on torso training, which includes abdomen, back, shoulders and seat. Work takes place in different starting positions with successive increases with your own body as weight or with different tools such as weight plate and sticks. The exercises are performed in dynamic and static variants.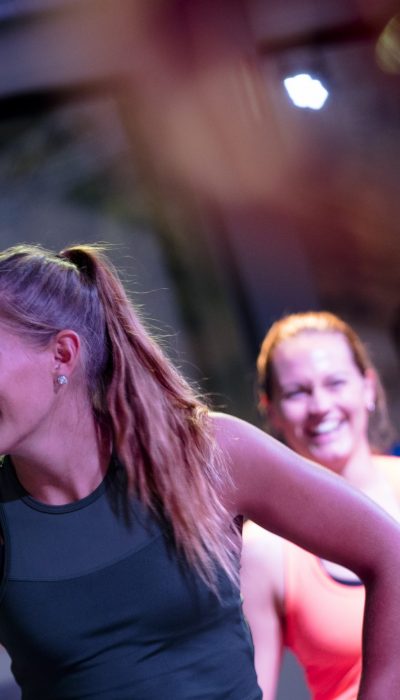 Dance Aerobic
Dance-inspired, versatile training for you who like to put together different basic steps into a combination, which gradually develops. Dance Aerobic includes strength training, often with an iron bar or rubber hoses. If you are a beginner, we recommend that you start by going to "Baspass". For other sessions, it is assumed that you know all the basic steps so that you can keep up with the choreography.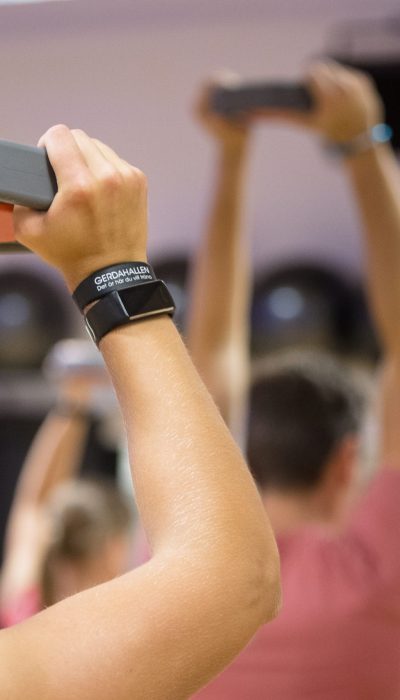 Functional strength
Functional strength is an athletic and effective training where strength, stability and endurance are trained with the help of a step board and weight plates. Pulse-raising and sometimes explosive moments are also included. The cooperation between different body parts, muscles and directions of movement provides training in all dimensions of the body.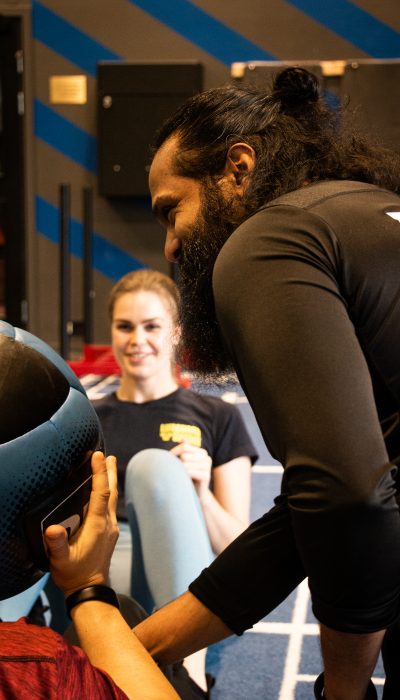 GoMad
GoMad is an intensive workout in a small group where free weight training are the center. We use tools such as barbells, weights and kettlebells to train strength, explosiveness, endurance and technique. Booking is as usual for this session but requires a card that has access to the gym.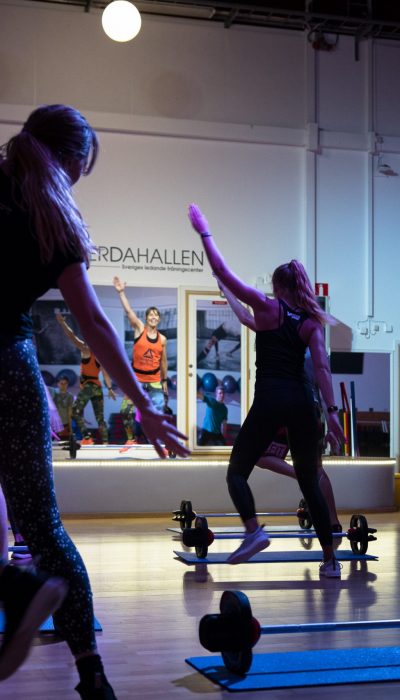 Gympa
Gympa is a very versatile form of exercise that suits most people. Each session includes strength, fitness, flexibility, mobility, coordination and relaxation to give the body a challenge and effort on all levels. These qualities are trained according to the pleasure principle, ie it should be easy, fun and comfortable to move.
Great emphasis is placed on varying the work as much as possible. In order for the training to be as effective and efficient as possible, the working muscle group is varied. In this way, lactic acid formation is avoided as much as possible without it becoming unnecessarily burdensome. An exercise should not take – it should give!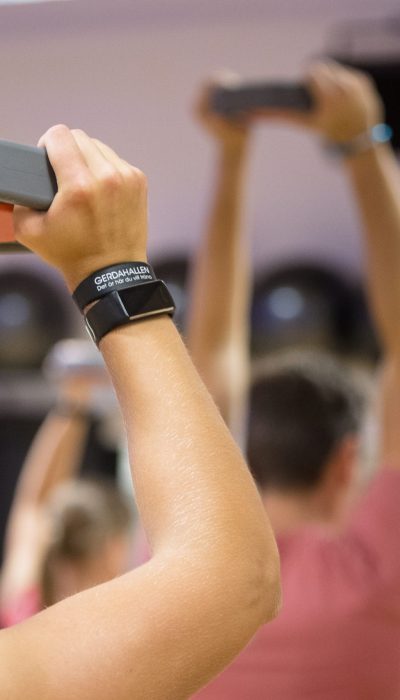 HIT
The workout HIT (high-intensity training) may look a little different from time to time, but the principle is always the same. About 5-10 minutes of warm-up, work a maximum of 20-45 seconds per exercise and "rest actively" between the exercises. The session ends with lowering / stretching. You work according to your own ability and intensity. Many exercises show an increase in the exercise for the very well-trained exerciser.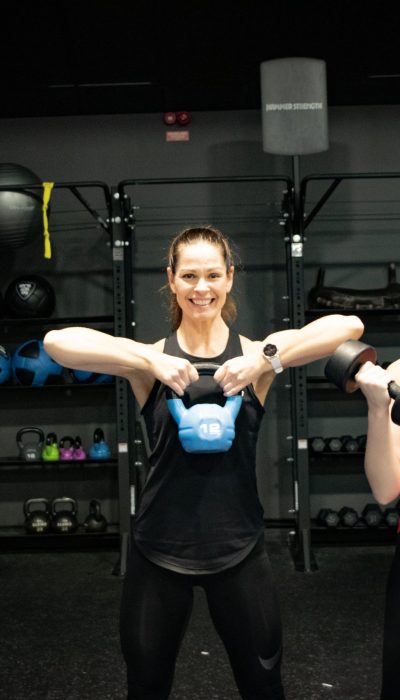 Kettlebell
Kettlebell training provides a varied training with elements of everything from mobility, balance and strength to cardio and explosiveness. The training form is thus excellent for you who want to be all-round trained and in generally good shape. Kettlebell training is also a good foundation for you who want to learn mobility, technique and strength before Olympic lifting and powerlifting.
It also makes it possible to strengthen weak parts of the body. Weak part can be the non-dominant half of the body or the handle. Thanks to the design of the kettlebell, all movements can be performed with "full range movement".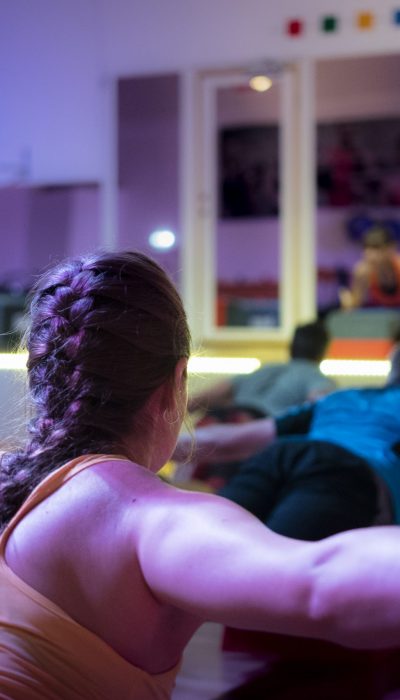 LES MILLS CORE®
LES MILLS CORE® is a perfect workout to get a well-trained abdominal and back muscles. Through dynamic training with the help of rubber bands and light weights for the abdomen, seat and back, this workout will make you feel stronger in everyday life.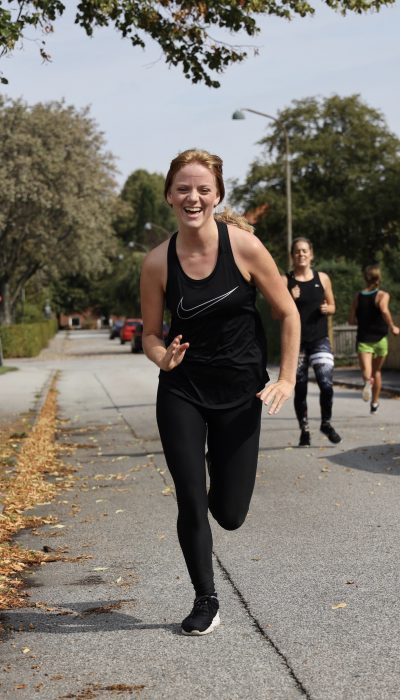 Outdoor running
We run outdoor running week 10. The sessions are about 70-80 minutes long depending on how the sessions are set up. On Tuesday's session, we train to reach your personal goal before Lundaloppet or another race of one mile. The session on Thursdays focuses on improving you as a runner in general.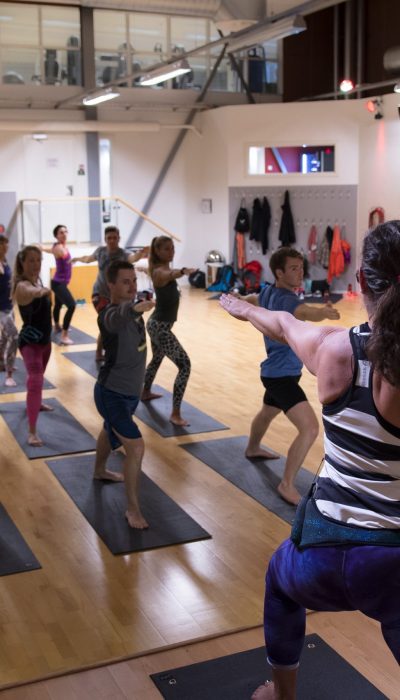 Pilates
Pilates is a dynamic group exercise that is performed on a mat with an active flow and focus on good quality in every movement. Pilates is very much about concentration, focus and being aware of what you are doing. Centering and stabilization is the core of Pilates, where you build a strong center. Pilates is a functional exercise where you activate several muscle groups in one and the same exercise.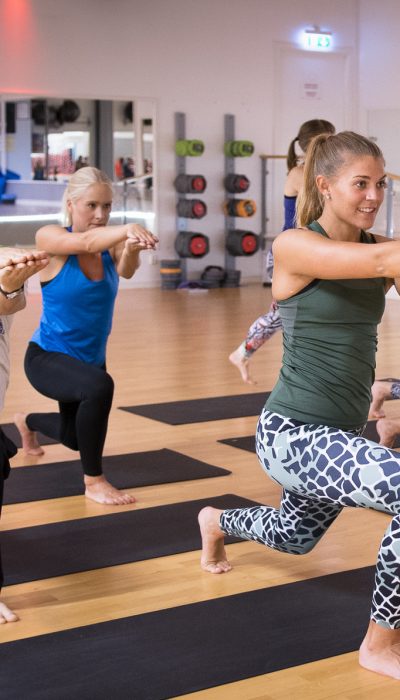 SomaMove®
SomaMove® is a workout that is athletic but still soft. You only work with the body as resistance and with the surface as your tool. The whole workout is an uninterrupted flow of different movement patterns where you train strength, fitness, mobility, stability and balance. We work on carpet and are barefoot.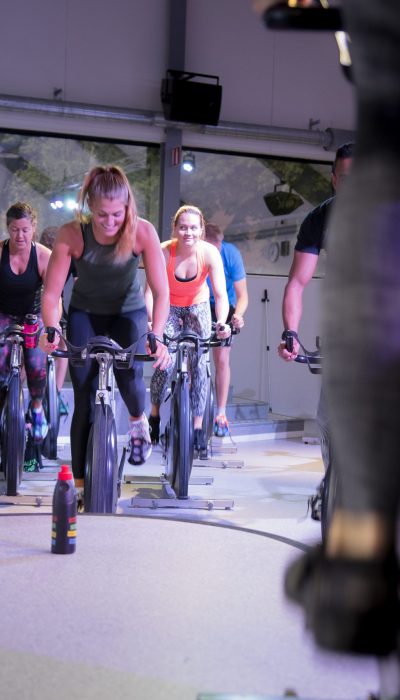 Spinning
Spinning is a simple and effective form of exercise that provides great opportunities for individual adaptation.
Spinning mainly trains fitness, as the large muscle groups in the legs are involved, which places demands on the heart, lungs and blood circulation.
Virtuell spinning – Les Mills
The virtual sessions RPM, Sprint and The Trip start automatically in the hall between the leader-led sessions and you can come and go as you please. You can e.g. warm up before the gym workout or run a long distance workout.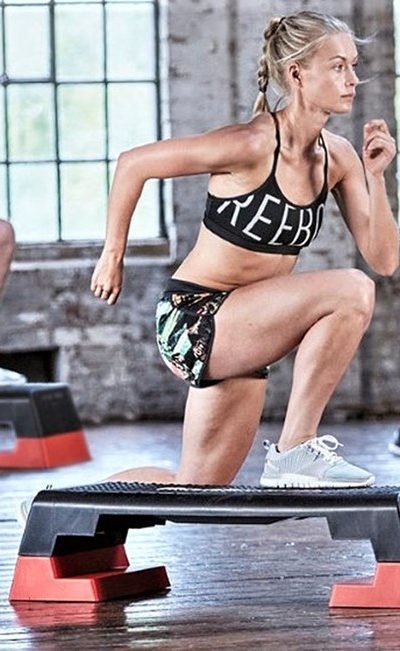 Step & StepDance
Step
Cardio workout on a step box with different step combinations to inspiring music. Sometimes the instructor adds a strength section at the end of the class. Then both weights and your own body weight are used as tools.
StepDance
Suitable for those who have practiced at step classes before. The step combinations are more advanced and inspired by different dance styles. Both jumps and spins occurs and the pace can be quite high at times. The choreography is built up step by step and methodically in different stages to make it easier to follow along.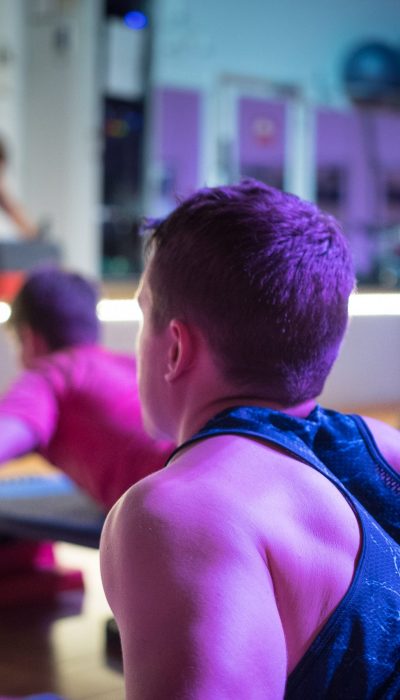 Tabata circle
Tabata = 20 seconds maximum effort followed by 10 seconds rest. This is repeated eight times, which is a total of 4 minutes and there you have performed a Tabata. The classes here can vary from time to time with different exercises. Everyone can join in and go at their own pace!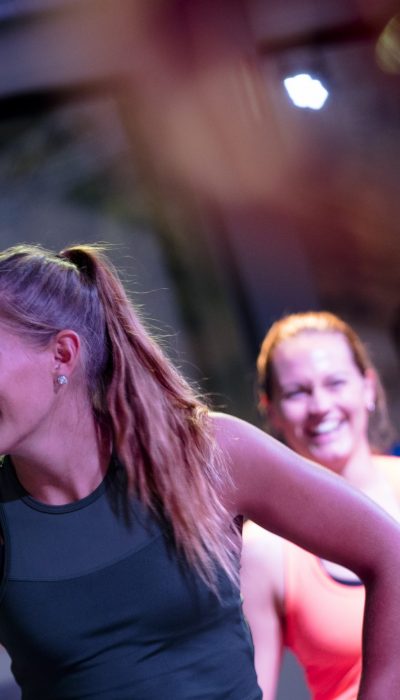 TRX
TRX (Total body Resistance eXercise) is a functional and training-effective training where we focus on the strength in abdominal muscles, but also in the legs and arms. Fitness, stability, balance and flexibility are also included.
The TRX strap, which is a very durable strap with two handles, is attached to a boom or ribbed chair.
Your own body weight is used to create resistance and it is possible to adjust the resistance according to your own ability and daily form.
The choice of exercises is very varied and the program layouts are laid out in different intervals.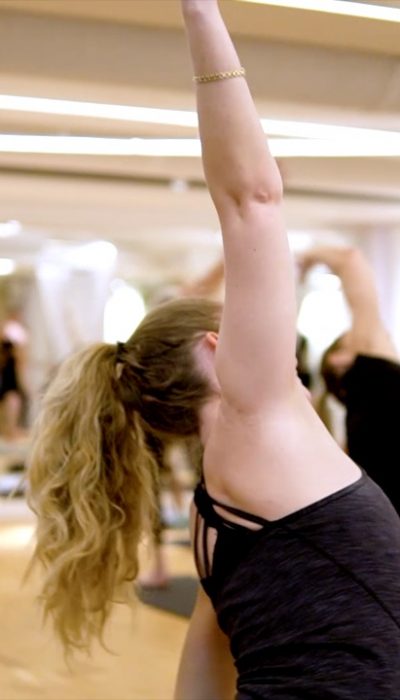 Yoga
Gerdahallen's Yoga welcomes you upstairs. Here you will find a quiet lounge and incomparably beautiful STUDIO that offers you opportunities to increase strength, mobility, agility, balance and body awareness. The presence is total and the breathing is always in focus. Gerdahallen has a huge range of yoga with everything from PowerYoga in different levels to YinYoga, Yoga for the back and PregnancyYoga.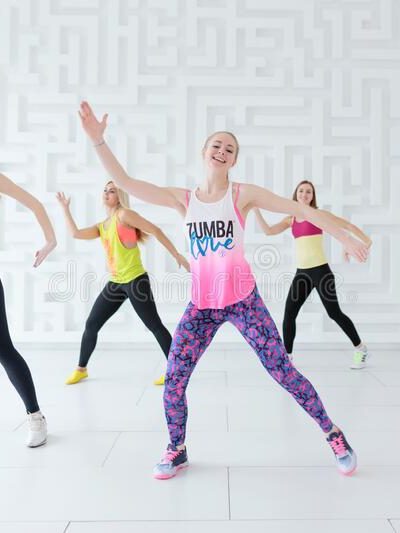 Zumba
Zumba is dance-based group training that is performed mainly to Latin American music and world music, with elements of Latin pop and international radio hits. We use simple basic steps in each rhythm that are combined into a dance choreography interspersed with faster and calmer rhythms to obtain a type of fitness and interval training. Suitable for everyone regardless of age and experience.
Kick start your
training journey!
Invest in yourself – buy training cards
or PT hours
At Gerdahallen, we want to give you all the conditions to succeed with your training so that you can feel good and become even stronger – so join us on your life's training journey. We help you regardless of training background and promise you training quality, joy and fellowship in a simple and inspiring way. The gym is newly renovated & open 24 hours a day.
Welcome to Gerdahallen!
Buy card
We at Gerdahallen
Here you will find contact information for Gerdahallen's employees